2016 will mark the 150th anniversary of the iconic brand — Jack Daniel's Tennessee Whiskey, and Department 56 is ready to join in the celebration with the new Jack Daniel's Village pieces which include "Jack Daniel's Office", "Barrel House No. 7" and the "Lynchburg Hardware & General Store".
Hover Over The Images to Shop!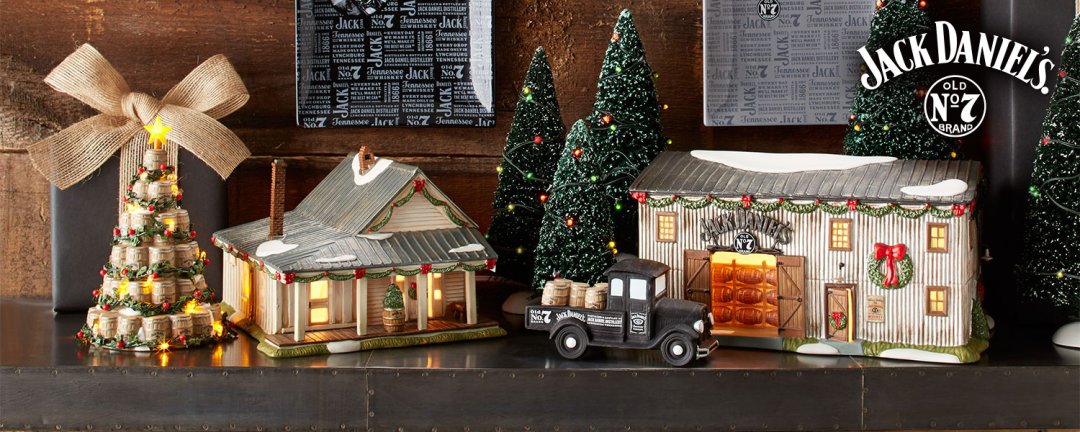 The Most Famous Dry County in America
If you venture down to Moore County, Tennessee, you will hear the story of the world's most famous and best selling whiskey—Jack Daniel's Tennessee Whiskey. They tell us that more than 14 million bottles are sold world-wide in a single year. Named for the company founder Jasper Newton "Jack" Daniel, this product was originally distilled by Dan Call, a local preacher who took Jack in during the Civil War.  Call raised him after the death of his father because life with his stepmother and a large number of other children was difficult.  A small inheritance from his late father allowed Jack to buy a parcel of land and set up a distillery business when his mentor decided to give up the trade due to his religious convictions. This plot of land is where the distillery stands today.
Department 56 worked closely with the Jack Daniel's Company to select just the right buildings to include that will help to tell the story of this icon brand. The "Jack Daniel's Office" was the heart of the company's operation for many years and our piece looks just like the original. We also designed  "Barrel House No.7" to represent the typical metal sheds where the barrels filled with whiskey are aged until it is ready to be bottled and shipped, and the "Lynchburg Hardware & General Store" gives us a flavor of the town where employees live and work.
In 2011 140 empty whiskey barrels were hoisted into place to create the first Jack Daniel's Barrel tree. Once the barrels each held over 53 gallons of whiskey, but now they help to create a decorated lit tree for all of Lynchburg, Tennessee to enjoy and a new tradition was started. Department 56 designed and manufactured a miniature lighted replica of the barrel tree to add to your Jack Daniel's Village display.
Share This Post!