In a recent conversation with Department 56 Creative Director, Rick Jackson, about the architecture of our buildings, he shared that each of our Villages presents separate architectural challenges, but the details on Christmas in the City pieces are the most intriguing. "We have to fit multiple details into a tall narrow footprint, it can be quite a challenge. We are also bound by the time period that this Village is set, the 1930s and '40s." When the Creative team decided to design the building featured in the 1942 Edward Hopper painting, "Nighthawks", artist Tom Bates had the challenge of "creating" the majority of the building because the painting focused on the curved glass window on the ground floor with the diner patrons seated at the counter. Tom used other photography of buildings from the era to recreate what he thought the rest of the building would look like.
Hover Over The Images to Shop!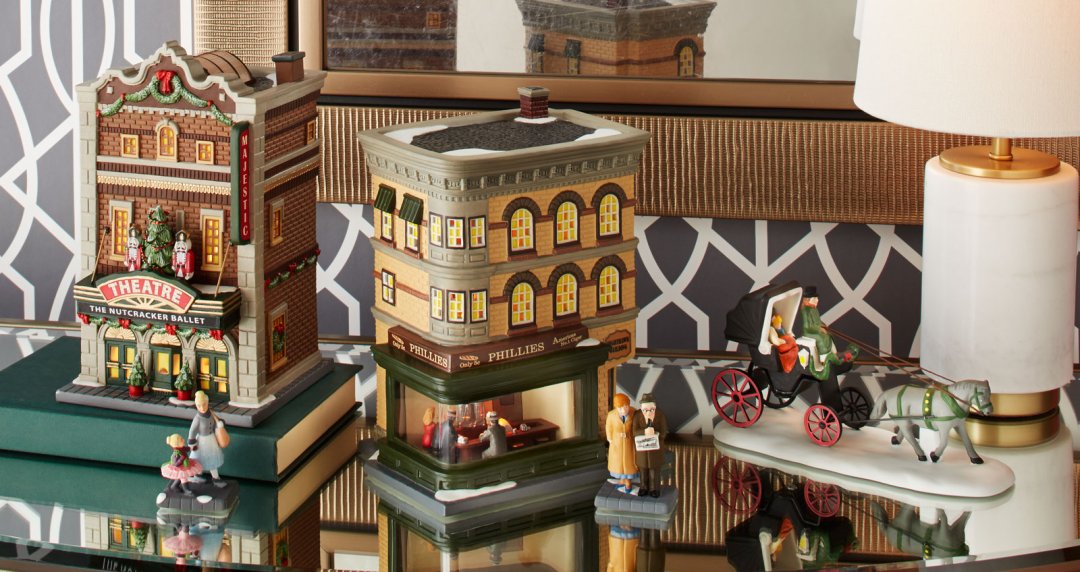 The Department 56 "Nighthawks" piece along with the coordinating accessory (which depicts the artist, Edward Hopper and his wife who modeled for many females in his paintings) is the perfect piece to present to the collector of Christmas In The City, or for anyone who has an appreciation for architecture in art.

We share a few fascinating facts about this iconic painting that you might not know:
The size: The painting is large measuring 2.75 ft. tall and 5 ft. across covering the Chicago Art Institute gallery wall and making quite a statement.
Like most of Hopper's works, there are detailed notes compiled by his wife, Josephine. In fact, Josephine appears frequently in Hopper's paintings. In this one, she is the red head seated at the counter. Hopper himself posed in a mirror for the two male diners.
In a letter to the artist's sister, Josephine talked about the painting and suggested the title "Night Hawks" which was later changed to "Nighthawks". Night hawk, in Jo's meticulous notes, the physical description of all the characters referred to the beak shaped nose on the man at the bar.
The stark simplicity of the details emphasizes the loneliness of the all-night diner and the isolation found in many large urban areas.
The scene for the painting is often thought to be based on a real diner somewhere in Hopper's Greenwich Village (New York) neighborhood, but was inspired by several locations that were a composite in the final work, much like the designs done by the Department 56 design team.
The interior of "Nighthawks" is one of the most parodied scenes in art history — it has been done using the Simpsons, James Dean and Marilyn Monroe and  Star Wars characters seated in the diner, to name a few.
Share This Post!