Since 1994 Department 56 has introduced holiday special sets designed to be sold for just one season making them very special. They are packaged to use as a gift for a new collector or, why not, for yourself! The sets compliment one or more of our Villages and often have a single theme. This year's holiday special sets are simply irresistible because they all have to do with chocolate. We are pleased to announce that our holiday special sets for "Snow Village", "Dickens' Village" and the "North Pole" are all chocolate related and we know that you will love them!
Hover Over The Images to Shop!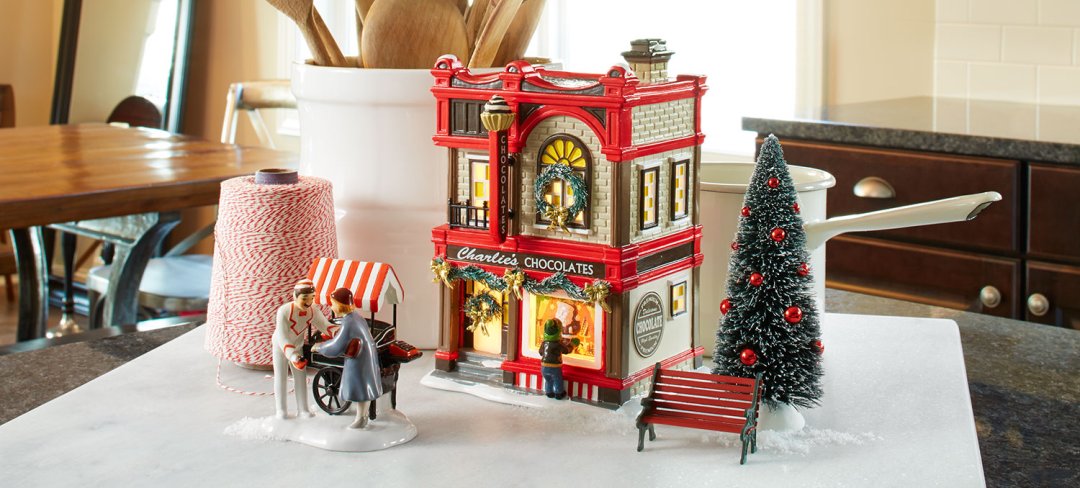 It's fun to open a package that contains fudge, truffles, dark chocolates with nuts or caramel centers! Each set features a candy shop with holiday decorations and a young child, nose pressed up against the window, wishing and hoping to find chocolate treats in his stocking on Christmas morning!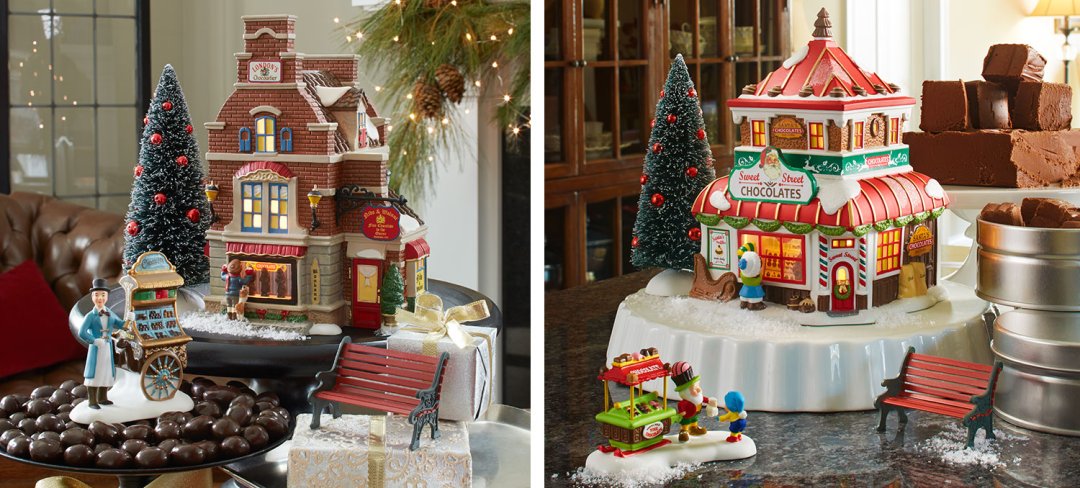 5 REASONS YOU SHOULD EAT CHOCOLATE EVERY DAY:
It can be good for your heart.
Chocolate ice cream and fudge toppings have the power to improve your day, and your life.
It can calm you down. (It's a scientific fact that chocolate is a stress reliever. Now you can eat it without the guilt!)
It's a great way to bond with your children. (Share a candy bar and you'll be convinced!)
Let's face it, chocolate is irresistible, and there is no reason to resist. (Just ask Lucy!)
Chocolate as we know it today has a long and rich history. Some historians believe it dates back several thousand years.  The word can be traced to an Aztec word "xocoatl," which referred to a bitter drink brewed from cacao beans. The Latin name for the cacao tree, Theobroma cacao, means "food of the gods." You don't need to have a sweet tooth to recognize the familiar names of the original family-owned companies — Cadbury, Mars and Hershey who helped to usher in a boom in the late 1800s that has yet to slow down. With more than $75 billion worldwide spent on chocolate annually, the new Village chocolate shops are a necessary and sweet part of our Village displays in 2016!
Share This Post!