When soft-serve ice cream was first produced in 1938, there was no Dairy Queen. John "Grandpa" Fremont and Bradley McCullough developed the formula for this summer favorite and convinced a friend, Sherb Noble to test it in his Kankakee, IL, ice cream parlor. Noble sold 1,600 servings for 10¢ each in just two hours! The trial was a definite success! Because McCullough deemed that the cow was the queen of the dairy industry, name "Dairy Queen" was chosen. The first Dairy Queen ice cream stand opened in 1940 and today there are over 6,000 locations in 30 countries.
Hover Over The Images to Shop!

Department 56 designed a ceramic version of one of the earliest 'drive-in" versions to celebrate the 75th birthday of the company. A retro highway billboard designed to look like the drive-in is also available. Other cleverly designed accessories and a new North Pole "Cone House" have been added this summer. When used together, these pieces allow collectors to create a small stand-alone display, or add the pieces they like to their existing Village display.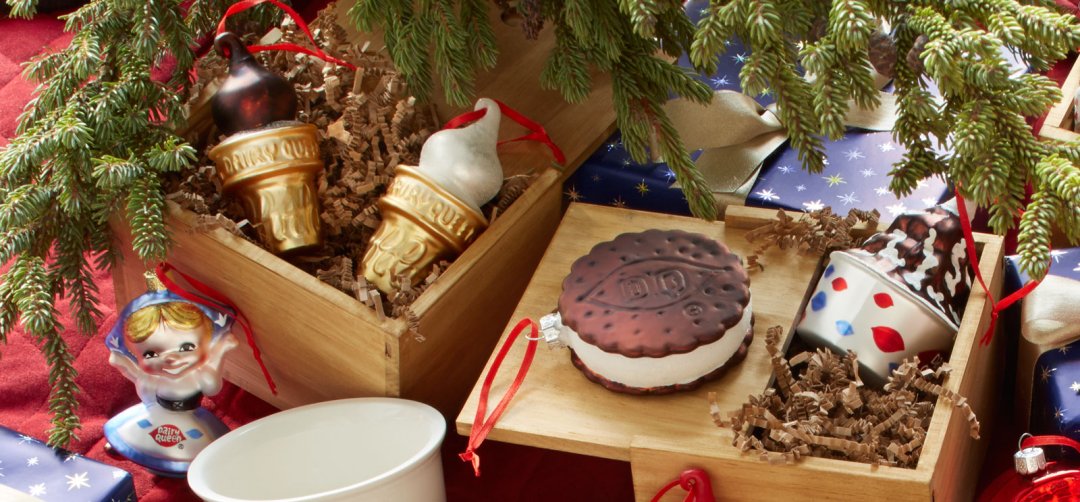 Starting with the simple soft-serve cone with the trade-mark curly Q one top, Dairy Queen has developed a number of fan favorite frozen treats including the "Dilly Bar" (1955), "Peanut Buster Parfait" (1973), the Dairy Queen Cake (1981) and the "Blizzard" (1985). All of these, and more were inspiration for our designers to create a  collection of blown glass, hand painted ornaments and are available to enjoy on your Christmas tree (and they won't melt!).
Did you know:
•
The state where there are the most DQ franchises are located, is Texas.
• Dairy Queen was one of the first companies in the US to offer franchises of their business to prospective owners.
• Dairy Queen® soft serve contains 5% butter fat and has only 140 calories per creamy 1/2 cup.
• All Dairy Queen soft serve is stored at 18 degrees F rather than the normal 0 degrees that is required for regular ice cream products. This is why you can dig in to a DQ treat as soon as it is in your hands.
• The world's largest Dairy Queen in Riyadh, Saudi Arabia. The two-level restaurant is 7,500 square feet and can easily seat 240 customers.
• The number one selling Blizzard is Green Tea (sold only in China) followed by Oreo, a favorite here in the United States.
Share This Post!