Each spring we ask our Village artists to share some thoughts about the designs they create. We recently spoke to Barbara Lund who has been designing the Dickens' Village, New England Village and the North Pole Series for the last 27 years. We thought that we should share her thoughts with you.
"I believe I am coming up on my 27th year of designing Villages. That would be enough time to put a child through grad school. I suppose, in a way, I have graduated myself, from being an apprentice to my father, Neilan Lund, for so many years, into feeling completely versed in creating these buildings. In these years we have seen a great escalation in the ability of our factories to implement more challenging designs and offer greater interest to the public."
We asked our artists, "If you could design any historical building (with no restrictions whatsoever) what would it be — and why would you choose it?"
Barbara: "I think we are all drawn to names we recognize and there are many businesses alive today that had their beginnings in the last centuries. Many goods carry the names of the families that began the company. Of course, when you want to use a licensed name, that can create some challenges so Department 56 has always played that card very carefully. But speaking of "playing," I believe another thing we all love is music. Not long ago I researched how pianos are made as there is vast information available to us about this art — and it is an art. A friend had told me that if she could afford any piano in the world she would buy a Bosendorfer made before 1970 so I learned as much as I could about what informed her decision and it was fascinating. There are many carrying proud names today. There are also many beautiful makers who lost their race with time or technology but pianos are a thing that have touched us all.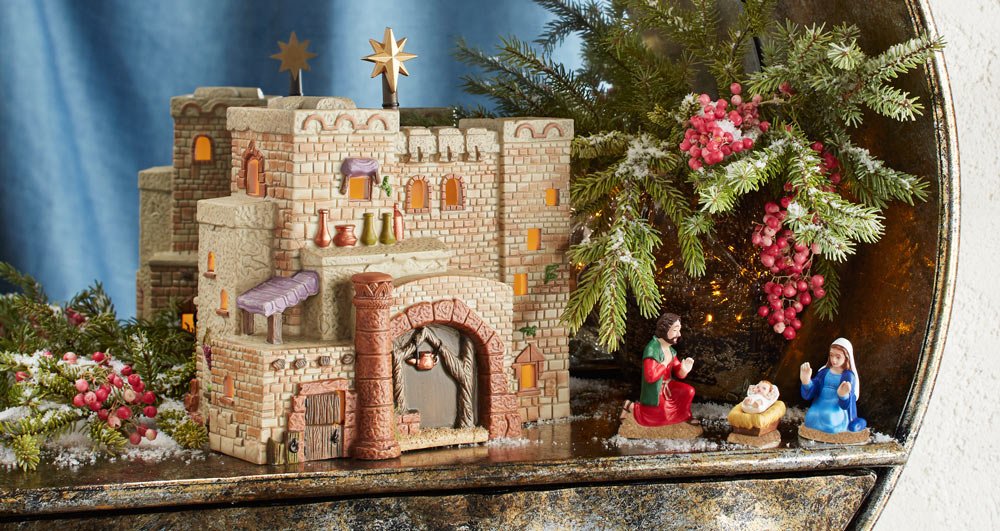 Our collectors always want to know what your favorite new pieces for 2016 are. What can you share?
Barbara: Last summer I was putting the final touches on the third version of Little Town of Bethlehem that will be released by Department 56 as part of the company's 40th anniversary later this year. My father drew the first after he and my mother visited the Holy Land which they deeply loved. They traveled in a less troubled time and were able to really absorb the environment and people and antiquities. I remember my mother writing a long letter about a Palestinian many they had met. She believed he was one of the most beautiful souls she had ever met traveling. Our third version of Bethlehem goes back to some of my father's earlier inspiration and away from the more ornate offerings sold by other companies. We hope it can be a cornerstone for new families who have not yet found a nativity.
We all know that working for Department 56 allows you to combine your talents with a working profession. If you weren't doing this what other career might you pursue?
Barbara: I have drawn Department 56 for so many years I almost can't imagine another profession through travel holds great appeal. The world has certainly become more connected since I began this work but I  continue to believe that we can't really understand other cultures and places until we visit them. I have been lucky to visit many wonderful places but there are so many more I'd like to understand. I think the more exposure I have to real places, the better I will become at translating what I have seen and felt into little porcelain pieces.
Share This Post!